Locations
Our half-price tickets are available online every day of the week, but we also have two convenient downtown Chicago locations where you can buy tickets in-person from Hot Tix theatre geniuses. We look forward to meeting you!
Two Downtown Hot Tix Locations:
Scroll down for our upcoming pop-up locations.
NOTE: The Hot Tix locations will be closed for Memorial Day, May 27. 
Half-price theatre tickets will still be available online!
72 E. RANDOLPH, Chicago
Located between Michigan Ave. & Wabash Ave.
Across the street from the Chicago Cultural Center
Open Tuesday-Saturday 10am-6pm and Sunday 11am-4pm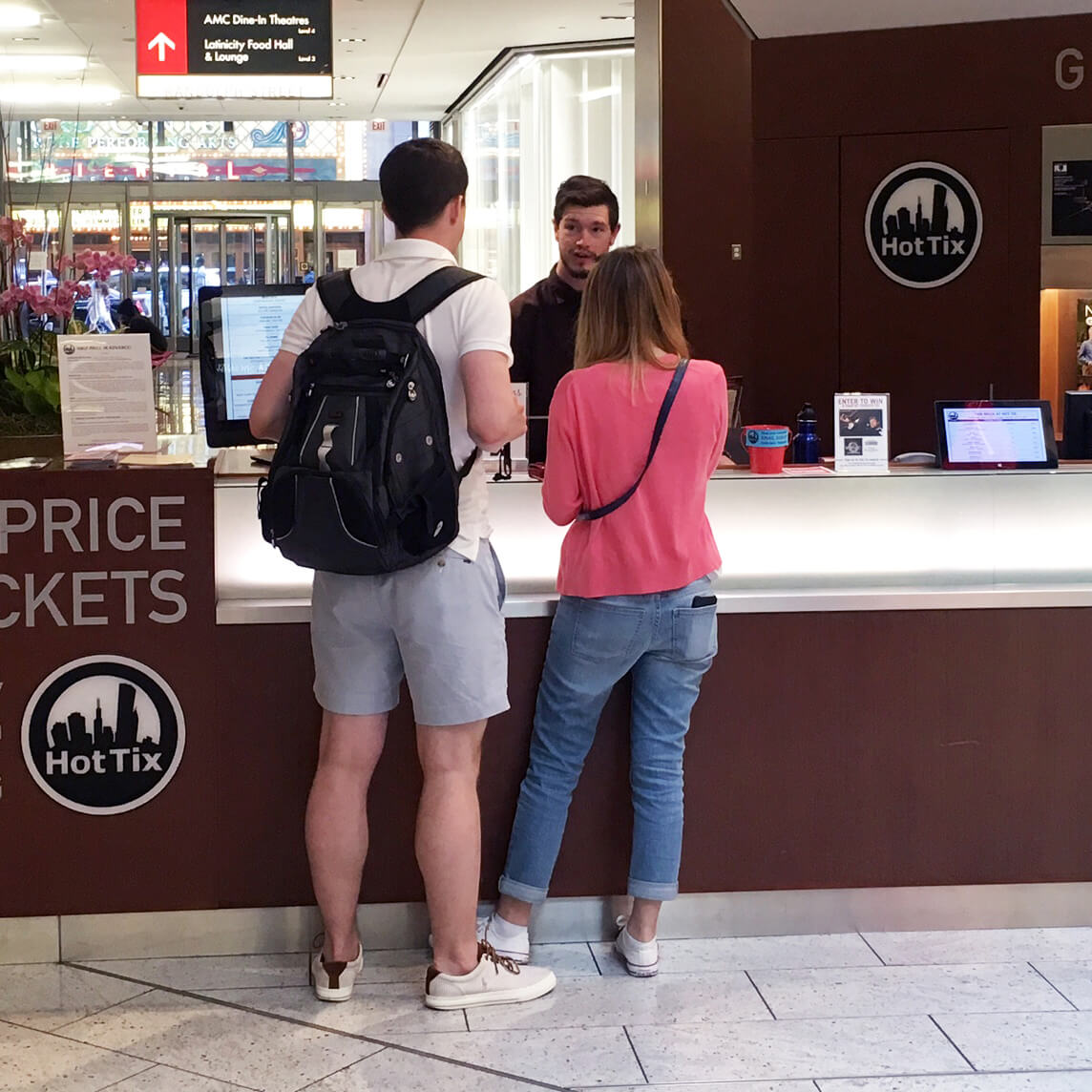 108 N. STATE, Chicago
Inside Block 37 Shops on State at Guest Services
Located in the Downtown Chicago Theater District
Open Every Day: Monday-Saturday 10am-6pm and Sunday 11am-5pm

---
Upcoming Hot Tix Pop-Ups:
McCormick Place in the South Loop, 2301 S. King Drive
During the Year of Chicago Theatre, Hot Tix will be offering half-price theatre tickets at McCormick Place for select events and conventions. The main Hot Tix pop-up location is near the main entrance to the South building. Enter from the traffic circle and turn to the right. (If we are in the West building, go up the escalator by the Year of Chicago Theatre display. Continue straight through the skywalk and the Hot Tix pop-up will be near Starbucks.)
National Restaurant Association Show 2019 (South): May 18-21
Saturday, May 18: 9:30am-5pm
Sunday, May 19: 9:30am-5pm
Monday, May 20: 9:30am-5pm
Tuesday, May 21: 9:30am-3pm
2019 Sweets & Snacks Expo (West): May 22-23
Wednesday, May 22: 8:30am-5pm
Thursday, May 23: 8:30am-2pm
2019 ASCO Annual Meeting (South): May 31 – June 4
Friday, May 31: 1pm-6pm
Saturday, June 1: 9am-6pm
Sunday, June 2: 9am-6pm
Monday, June 3: 9am-6pm
Tuesday, June 4: 8:30am-1pm
Stay tuned for more pop-ups!
---